Public Speaking is almost universally recognized as something that brings great fear and anxiety to most people. It is often listed as one's biggest fear. Toastmasters is a program designed, in part, to help one overcome that fear. How does one overcome the fear of public speaking? Not in small part due to member enthusiasm.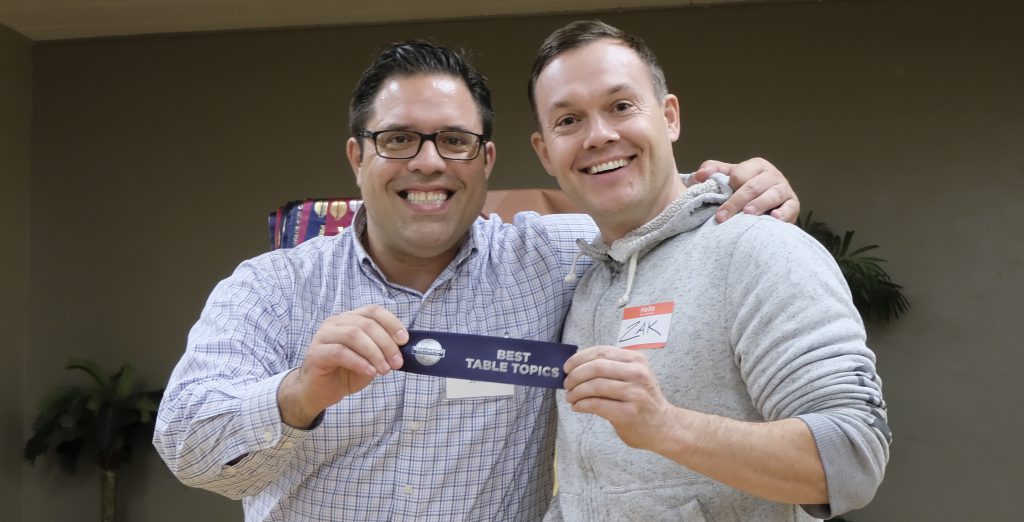 Toastmasters 7 has many enthusiastic members. Above: Lou Weimann, Toastmaster last week. And a guest, Zak, who won best Table Topics speaker and gave excellent meeting feedback
At the end of our last Toastmasters meeting, one of our guests (pictured above) gave feedback about how enthusiastic our club was. He specifically mentioned how there was a "lot of hootin' and hollerin'" that added to a very enthusiastic and energetic atmosphere. It was then I realized that I needed to focus some attention on that unrecognized, but valuable member(s) of our club: the hype man and hype woman.
Above is a gif of Flavor Flav who probably brought worldwide acclaim to the importance of the hype man in a hip-hop band. In wikipedia I found this little blurb:
Music writer Mickey Hess expands the term as follows: "a hype man is a figure who plays a central but supporting role within a group, making his own interventions, generally aimed at hyping up the crowd while also drawing attention to the words of the MC."
That perfectly encapsulates the role of the hype men and women at Toastmaster 7 meetings.
When someone is speaking at our Toastmasters meeting, encouragement plays a huge role in both creating a sense of camaraderie and making the speaker feel appreciated and encouraged to repeat and push themselves within Toastmasters and outside the club.
After the meeting last week, I was talking to one of our members, Sureal Sparx, about some of the other clubs he had visited in the past and he mentioned how one club only offered a polite golf clap after every speaker exited the stage.
Now I am not sure about you. But if I am not feeling confident about giving a presentation and I get a polite little golf clap, I'm not sure I'd want to do that again. But on the other hand if I get the equivalent of Flavor Flav hyping up the entire audience to be the most enthusiastic they've ever been – I am going to exit the stage feeling pretty good about myself and inspired to push myself further.
Therefore, this post is dedicated to our many hype men and women: The Lynettes and Albertos, the Yesicas and the Sureals, the Corinnas and the Christophs.
I can promise you this: if you come to one of our meetings,
you will leave feeling pumped
and ready to tackle anything life throws at you.
Much appreciation to our creative writer:  Sam Ollinger!