Featuring members of San Diego 7: How Toastmasters have made a difference in their lives.
Featuring Ruben Figueroa, Member since 2016
Featuring Kalina Cardoso, Member since Feb 2020.
Featuring Corinna Koehler, SDTM7 Member, Area 14 Director
Please join me in congratulating Corinna Koehler for being only the 4th Lady Sevener to achieve a Level IV awardin the Persuasive Influence path after Diane Horton, EC4; Yesica Vazquez, DL4, and Elaine Dusetzina, EC4. Corinna joined San Diego Toastmasters 7 in November 2017. In her 3 years and 4 months with our club she has successfully completed Legacies Competent Communicator, Advanced Communicator Bronze, Competent Leader, and Advanced Leader Bronze awards.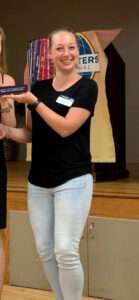 Corinna began her formal Toastmaster leadership career as our Club Secretary where she ran tight Executive Committee meetings followed by 2 terms of service as our VP of Education. She is currently the Area 14 Director and serves Center city Speaker TM 643, City Speakers TM 1112, Loquacious Nooners Club 3121, and Career Builders TM 5223. Most recently Corinna earned Toastmasters International Triple Crown recognition for earning 3 Pathways Level awards in the same Toastmaster year. We are blessed to have her as one of our own. Please join me in congratulating Corinna Koehler for this milestone achievement in Pathways at San Diego Toastmasters 7!!
---
Featuring Elaine Dusetzina, SDTM7 Member, Area 9 Director

San Diego Toastmasters 7 is proud to recognize Elaine Dusetzina, as the first club member to complete an educational path – Effective Coaching – in the Toastmasters International Pathways educational program launched in the Fall of 2018.  
Elaine joined San Diego Toastmasters 7 in October 2017 and is among the first members to focus on the Pathways program. During her 3-year Toastmasters career, Elaine served as VP of Public Relations from 2018-2019 during which she interviewed many of our club's high achieving members on the club's page, "Members in the Spotlight.
In 2020, Club President Shadi Abudayeh awarded her the President's Grab the Gavel award for most Outstanding Leadership contributions to San Diego Toastmasters 7.  She currently sits on SDTM7's Public Relations Committee.
In 2020-2021, Elaine was appointed by District Director, Distinguished Toastmaster Jonathan Deane, to serve as our Area 9 Director.
During her Directorship and as part of her Level 5 High-Performance Leadership project, she developed a guide to the 7 Best Practices for
Clubs to conduct Online meetings which earned her the Effective Coach Path. Elaine is presenting The 7 Best Practices to Conduct Online Meetings next Wednesday February 3rd, 2021 at the Toastmasters Leadership Institute.  Elaine Dusetzina is a National board-certified Health and Wellness Coach and the founder of Evoke Strong LLC.  She's a proud mom of two girls, a Navy Veteran, and a retired Navy Spouse.
---
Featuring Jonathan L. Berman, DTM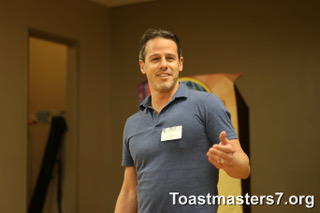 San Diego Toastmasters 7 Club President, Jonathan L. Berman, is the 12th club member since 2004 to earn Toastmasters International coveted Distinguished Toastmaster award.
An adventurous traveler and surfer from San Diego, California, Jonathan joined San Diego Toastmasters 7 in 2014. Berman thrilled his audiences with stories of the Brazilian Favelas, the friend zone, and his love for astronomy. He is a two-time Club Humorous Speech Champion and the 2016 Area 9 Humorous Speech Runner up.
As VP of Membership and VP of Public Relations under Club President, Amir Guri, in 2015-2016 Berman demonstrated to be a women's advocate. Indeed, Berman campaigned to fill a gender gap at San Diego Toastmasters 7 by organizing the first All Ladies Toastmasters meeting and recruiting 4 new female members that evening including Past Club President, Aimee Fuller. If that was not enough he was voted best female bartender at our 2015 club Halloween party for his Caipirinhas.
Last year as 2019-2020 as Distinguished Toastmaster and Area 9 Director, Yesica Vazquez was gearing to take over as Southern Division Director, she sought out members that she could trust in supporting clubs and members as Area Directors – while also being able to provide a friendly and directive demeanor. The first person Vazquez went on a quest to scope out was Jonathan Berman. Lucky enough for her, Jon accepted and took over as her successor as the Area 9 Director. During his term as area director, Jon proved to be an exceptional leader.
I had the privilege to see him support Area 9 wholeheartedly. Whether it be running into him at club visits or supporting fellow area directors in our division, Jon is a true reflection and representation of the core values of Toastmasters.
Last but not least, Berman was mentored by Distinguished Toastmaster, Damarys Alicea, and in turn mentored Distinguished Toastmaster, Alberto Alvarado. Please join me in congratulating Distinguished Toastmaster and Toastmasters International Triple Crown award recipient, Jonathan Berman.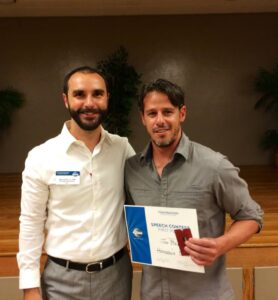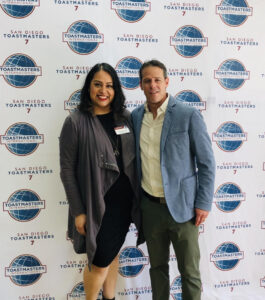 By Christoph Kubitza, DTM with contributions from Yesica Vazquez, DTM
---
Featuring Alberto Alvarado, DTM
Distinguished Toastmaster, Alberto Alvarado joined Club 7 in September of 2015. Alberto was awarded Grab the Gavel 2015-2016 and Toastmaster of the Year 2016-2017 for excellent work in fundraising, special events, and membership. He also served as club Treasurer for 3 terms.

In the past several years, Alberto co-chaired the Leadership and Communication Expo (LACE) – San Diego 7's biggest event with over 200 in attendance (currently scheduled on Oct 2019).
Alberto has served two terms as a district leader – he was our past Area 9 Director and currently serves as District 5 Public Relations Manager. Professionally, he works for The Costco Auto Program and is a Consultant in the field of Automotive Marketing.
Featuring Joyce Persichilli, DTM
One of our most accomplished members, Joyce has been a Toastmaster member since 1995. Over the years she held numerous roles at the club, area, division, district and international level in Toastmasters. She was the 2018 District 5 Toastmaster of the Year and a recipient of the Presidential Citation from Toastmasters International n August of 2018. She is most proud of being the 1st recipient of the Helen M. Blanchard Trail Blazer Award presented to her by Helen M. Blanchard in 2010.
Joyce currently holds the position of District Finance Manager for District 5 Toastmasters, Judging Chair for District 5, LDT Trainer, Awards Chair, Pathways Team Member and Acting Southern Division Director. She also has earned two DTM awards!
Currently, she is the Mentor/Mentee Chair for San Diego Toastmasters 7.
In addition to being a member of San Diego Toastmasters 7, she is a member of Club 407 in District 100 where she serves as club treasurer. Club 407's membership is made up of past and current district leaders and international leaders of Toastmasters International
---
Featuring Ruben Figueroa
---
Featuring Christoph Kubitza, DTM
Christoph is one of our longtime members who joined back in April 2004 after he was laid off by Rain Bird International.   He wanted to become better at organizing and presenting his ideas in staff meetings and to prepare himself for job interviews.
Currently, he's a Warehouse 1st Shift Supervisor of Kraft Heinz San Diego food processing plant,  home of the Delimex brand of Mexican frozen food.  He's responsible for a team of 10 Material Operators that supplies 6 production lines.
Christoph has been instrumental in the growth of San Diego Toastmasters 7 serving as a mentor to various members of the club.  He is also helping to grow another club in San Diego, Creatively Speaking Toastmasters.  He  is the 2018-2019 Club Treasurer.
His hobbies are reading, movies, archery, touch rugby, and travel.
Featuring Shadi Abudayyeh, CC/CL
Shadi joined San Diego Toastmasters 7 in August 2015, and ever since then the rest of the club members have been trying to think of ways to get him to leave (unsuccessfully, to their detriment, so far). Shadi is serving his second term as President.
In his occupation as a business analyst, he was recommended from his place of work (some stagecoach company called Wells Fargo) to join Toastmasters because he has a tendency to ramble and isn't an accomplished speaker. Both of those points are still true, but now he's just a bit more loquacious (also to the rest of the club's detriment).
When Shadi isn't at Toastmasters he can mostly be found at home with his wonderful girlfriend and silly dog (separate entities of course), at a brewery debating his three favorite "B words" (burritos, baseball, beer) or planning his next vacation (maybe Portugal). Shadi welcomes and encourages you to come visit San Diego Toastmasters 7 and see how it can help improve your life in ways you didn't anticipate.

---
Featuring Yesica Vazquez, ACS/ALB
Yesica joined SDTM7 in Sept 2016 and is currently serving as a Club Coach & Area 9 Director.
Previous roles held: Secretary 2017-2018
Mentor Program Administrator 2017-2018
She's also been awarded Rookie of the Year 2016-2017
and Members Choice Award 2017-2018.
Look out for her soon-to-be released podcast in 2019!
---
Featuring Lynette Benitez, CC/CL
In October 2017, Lynette joined SDTM7 to build her confidence and have better time management when it comes to public speaking. Her goal is to do platform stage educational events.
Today, Lynette is serving as the Club VP of Membership. She also achieved the Competent Communicator award in less than a year!
Lynette is the owner of Parlor Bourgeoisie and a color educator for a company called Alfaparf Milano.
In her free time, she enjoys salsa dancing and boxing for fitness with her 9 year old son.

---
Featuring Chris Hammell, ACS/ALS
Chris Hammell has been a member of San Diego Toastmasters 7 since 2010. He won first place in the Area 21 and 2nd place in the Eastern Division Humorous Speech Contests in 2011. He was club VPE throughout 2014, a past Area 26 Director, and the Area 9 International Speech Champ. In this club he has won the International Speech, Humorous Speech, Tall Tales, Table Topics, and Speech Evaluation contests. He has presented several times at the Toastmasters Leadership Institute and was a featured speaker at the Fall Conference. He was awarded Member's Choice at Club 7. Additionally, he was given a District Governor's Award on the final year before it became the District Director's Award. In 2018 he was awarded the Helen Blanchard Trailblazer Award.
Chris, along with Bob Dietrich and Nick Katovsky, started Improv Masters in May of 2015 after participating in National Comedy Theatre's improv workshops. In addition to improv, Chris has taken NCT's stand-up comedy training and opened for Dat Phan, the winner of the first season of NBC's Last Comic Standing. He has spoken twice at Ignite San Diego and currently performs as a part of NCT's house teams. None of which would have been possible without Toastmasters.
---
Featuring Sureal Sparx, ACB/CL
Sureal joined TM7 in April 2015. He is by far, the most energetic member of our club. Sureal is a Realtor, Coach, and Speaker.
---
Featuring Antonio Garcia, CC/CL
Antonio has been with Toastmasters since 2012. He joined Club 7 in 2015 and held the role of VP of Public Relations.
---
Featuring Dusstin Coyote, ACG/ALB
Dusstin Coyote joined Toastmasters 7 in 2015.  He is the current District 5 Central Division Area 26 Director.  In the past, Dusstin, has served as the Sargent-at-Arms and various other leadership roles.
---
Featuring Joanie Jenkins
Joanie has been a member of SDTM7 since Nov 2017. Born & raised in Southern California, Joanie is a Tour Director guiding busloads of senior citizens to experience amazing places like the Albuquerque Balloon Fiesta, Yosemite, Bryce & Zion National Parks. She does not drive the bus, but thanks to Toastmasters she owns the mike!
---
Featuring Eric Linder, DTM
A member since 2006, Eric has contributed greatly to the growth and success of Toastmasters 7. He's a Distinguished Toastmaster, a past 5-term Club President (also served in all Club Officer roles, but one) and a mentor to over a dozen members. Outside of the club he served as Area 9 Director for six Clubs and was subsequently awarded the Area 9 Director of the Year (Making A Difference) Award for 2016-2017. He was also the Area 9 Contest Chair for Fall 2017.