*This is a weekly blog series with our Club Officers writing about their personal experience in the role they serve. Club Officer election is coming up! If you're interested in becoming a part of the Executive Committee, contact the Club President!
I decided to take the role as VP Public Relations a year ago to learn, grow and become more comfortable with promoting awareness about the Toastmasters 7 experience. Many of our members, including me, look forward to Thursday nights to cap off the week as many members show up with great enthusiasm and high energy. Even when you feel low, attending a Toastmasters meeting is a sure way to fire you up! Because of Toastmasters' positive impact on me, one way I could give back to the club was to accept the role of VPPR. As I took on this role, my primary goal was to shine a light on the tremendous benefits Toastmasters bring to one's personal and professional development.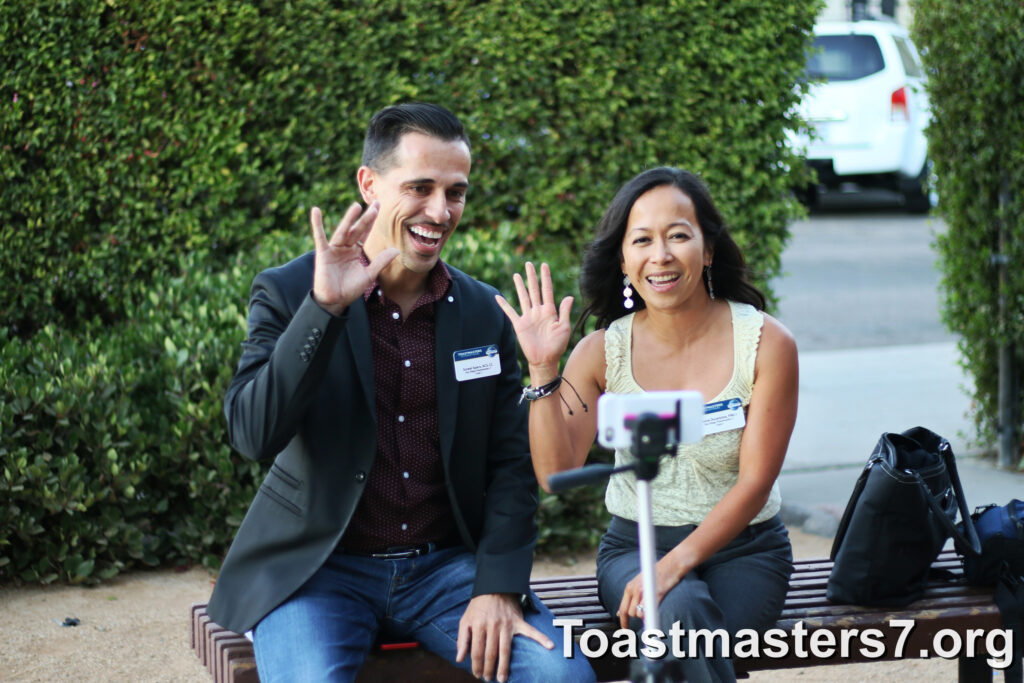 You're probably wondering what does a VPPR do? As defined by Toastmasters International, a VPPR's main responsibility is to –
"Generate positive awareness of the Toastmasters brand for the purpose of attracting and retaining members. It requires keeping the public (external audience) and members (internal audience) informed about club or district activities through effective communication channels and media relations. Good public relations will build membership and gain public recognition."
Generating positive awareness can be accomplished in multitude ways which requires knowledge of various platforms and tools available. Here's a quick overview of what we have incorporated in our club:
Let's start with one of the most popular in today's society – SOCIAL MEDIA! Social media is a direct and easy tool to use to connect with the masses. As VPPR, I found Facebook as the most effective social media platform for SDTM7. The 'secret' is consistency! I've taken advantage of the various tools within the FB platform. From posts with photos and videos to Facebook lives, it has reached a wide range of audience knowing more about what we do as a club.
Keep in mind Facebook is not the only platform out there! This is why we try to keep our other social media channels active like LinkedIn, Instagram, YouTube, and Twitter. Of course, it could get overwhelming for a VPPR to do all of the updates. It's best to focus on one or two platforms that is the most effective. Or consider forming a committee to take care of the other channels.
EMAIL continues to be the main form of communication when keeping our members aware of the club's activities. Mailchimp is also another excellent tool to get in touch with guests who visited our club about our upcoming activities.
Having a WEBSITE that represents the club is also important. This was one of my major tasks as VPPR – to have a website up and running with detailed information about our club along with beautiful photographs (many taken by our resident photographer Antonio Garcia) to attract members. As part of the website is a BLOG (which you're currently reading this piece of writing!) with posts from a few of our members who volunteered to share their experiences at Toastmasters through writing.
It's been a pleasure to serve as the VPPR for the past year! I know the next elected officer will do great and continue to build awareness for how AWESOME our club truly is!
If you are interested in becoming the next VPPR or take a part in a committee as you can tell this role can use the help of others, please let me know!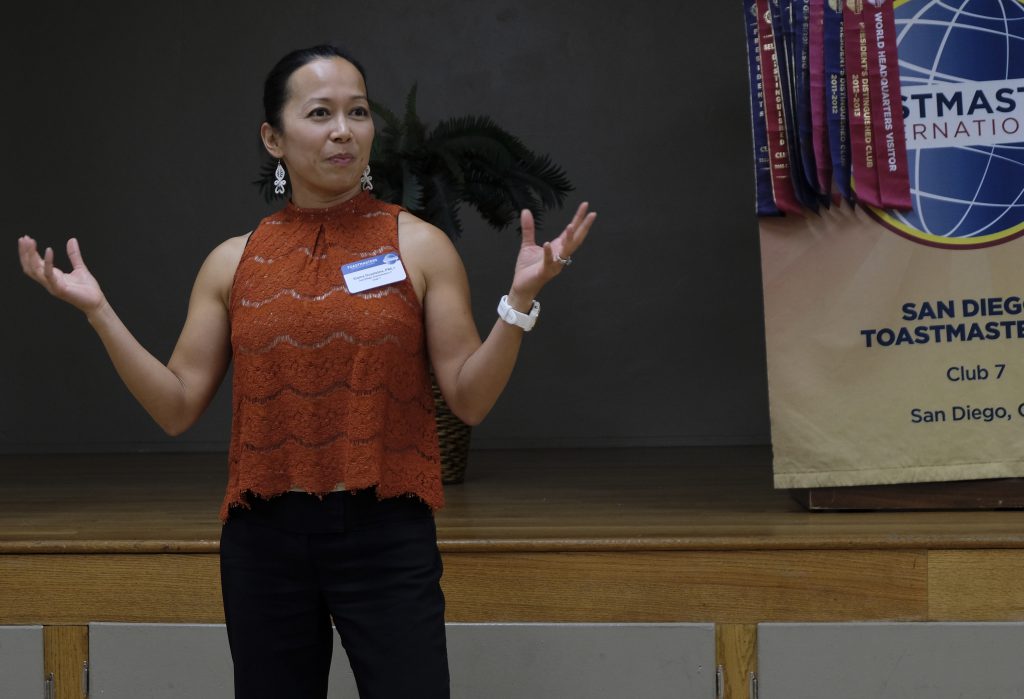 About Elaine Dusetzina: Elaine first stepped into a Toastmasters meeting at a San Diego Toastmaster 7's Open House back in September 2017.  Immediately, she was hooked after experiencing so much positive energy from everyone. Normally, she's not the type of person to step outside of her box.  However, she realized she needed to get out of her safe haven after an 11-yr stint with the Navy and becoming a stay-at-home mom for the past 8 years. Being a part of Toastmasters is exactly what she needed to hone her speaking and leadership skills.  Elaine served as VPPR for two terms in 2018/2019.
Elaine recently earned a second master's degree this time with something she's passionate about – Exercise Science and Health Promotion with a Wellness Coaching concentration as she aspires to start her own wellness coaching practice and empower others towards a sustainable healthy lifestyle.
Her other passion is distance running and would love to run all of the World Marathon Majors (So far she's ran Boston, NYC and Chicago with only 3 more to go! – Tokyo, London, and Berlin).  When she's not running, you can find her outdoors hanging out with her 2 daughters, husband and dog.