Meet our outstanding group of officers who do their best to ensure Club 7 is one of the best Toastmasters Club in San Diego!  Not only does Toastmaster help you to become an effective communicator, it also sets you up to be a better leader.
Club President

Shadi Abudayyeh, Competent Communicator/Competent Leadership
Shadi joined San Diego Toastmasters 7 in August 2015, and ever since then the rest of the club members have been trying to think of ways to get him to leave (unsuccessfully, to their detriment, so far). Shadi is serving his second term as President.
In his occupation as a business analyst, he was recommended from his place of work (some stagecoach company called Wells Fargo) to join Toastmasters because he has a tendency to ramble and isn't an accomplished speaker.  Both of those points are still true, but now he's just a bit more loquacious (also to the rest of the club's detriment).
When Shadi isn't at Toastmasters he can mostly be found at home with his wonderful girlfriend and silly dog (separate entities of course), at a brewery debating his three favorite "B words" (burritos, baseball, beer) or planning his next vacation (maybe Portugal).  Shadi welcomes and encourages you to come visit San Diego Toastmasters 7 and see how it can help improve your life in ways you didn't anticipate.
Vice President Education
Corinna Koehler, Competent Communicator
Corinna joined San Diego Toastmasters 7 in November 2017 because she felt the need to get rid of all her "so's","uhm's", "ah's" and get more comfortable speaking her second language, English. All of that and the amazing members of San Diego Toastmasters 7, were the reasons she joined.  She served as the Club Secretary before and is now serving her second term as VP of Education.
She is currently enrolled in an MBA program with a specialization in organizational leadership and international business, basically a perfect fit for toastmasters, wouldn't you agree?!
In her free time, Corinna loves to spend as much time as possible with her friends but usually she is off traveling and exploring the world to see the many opportunities out there.
For Corinna, San Diego Toastmasters 7 is more than just a club. It is a place to laugh, learn, make new friends, experience the unexpected, develop skills you didn't know you have and so much more. She highly recommends for you to visit San Diego Toastmasters 7 and experience what this amazing club can do for you!
Vice President Membership
Sureal Sparx, ACB, Competent Leader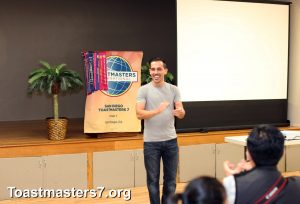 Sureal Sparx is a full time Realtor® who joined San Diego Toastmasters 7 in April 2015. 
Outside real estate, he is passionate about speaking and coaching for personal development. His first visit was "love at first sight". He decided to join the club immediately and has never looked back.  The speaking and leadership opportunities through Toastmasters are simply unmatched. It is the place to sharpen his skills in communication and leadership.
Skills that Sureal uses on a daily basis through negotiations and sales in Real Estate. The club offers a safe and supportive environment to practice so he can be outperforming in the real business world.
In addition to being VPM, he also is Area 12 director, overseeing 4 additional clubs. Sureal is just a few months away from getting his Distinguished designation.
Outside Toastmasters, Sureal enjoys exercising (Body Pump in particular), hiking, and has accomplished his first Marathon June 2019. Music, Arts, great food, and traveling are some of his areas of interests.
Always ready to strike a conversation, make sure to meet with him.
Vice President, Public Relations
Meghan Brohoski, Strategic Relationships, P1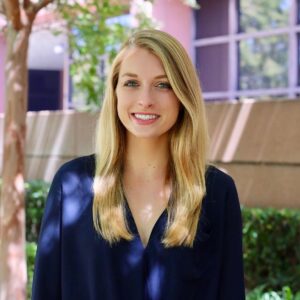 Meghan first visited San Diego Toastmasters 7 as a New Year's resolution pact with a close friend. She initially visited with the intention of checking out multiple clubs before joining but there was no need.
She knew she picked an amazing club because of the genuine encouragement, support, and friendship the members offer one another. As a digital marketing professional, Meghan was excited about the opportunity to show off SDTM7 and continue developing her skills in a new capacity as VP of Public Relations.
Outside of work and Toastmasters, Meghan enjoys running, surfing, live music, and enjoying her neighborhood in Little Italy.  In her own life and through Toastmasters, she has learned the importance of embracing discomfort in order to grow and develop professionally and personally. Don't be afraid to say hi!
Treasurer
Joyce Persichilli, Distinguished Toastmaster
Joyce Persichilli (Per-sick-kelly) is a Distinguished Toastmaster (DTM) x two and a member of three Toastmasters clubs in California—San Diego Toastmasters 7 & Toast of the Coast in District 5 and Past District Governors Club 407 in District 100. She joined Toastmasters in July 1996.
Joyce served as District Director in 2002-2003 and again in 2016-2017. Since leaving office in 2003 she continues to support our district and region.  In 2010, Joyce was the first recipient of the Helen M. Blanchard "Trail Blazer" Award, presented to her by Helen M. Blanchard the first woman president of Toastmasters International. She has been named District 5 Toastmaster of the Year not once but three times. The most recent as the 2018 Toastmaster of the Year for District 5 Toastmasters. 
In 2010 she was appointed the first Region Advisor by then Toastmaster International President – Pat Johnson. Joyce served two terms as Region Advisor. During her second term as region advisor our region was the number one region in north america.
In 2018 Joyce received a Presidential Citation from Balraj Arunasalam, Toastmasters International President for outstanding and continued contributions to Toastmasters International's organizational growth and excellence.
She continues to serve as a club officer, the District Finance Manager, District Judging Chair and mentor for district leaders.
When not involved in Toastmasters she volunteers as an advocate for senior citizen rights for the San Diego County Long-Term Care Ombudsman Program. She especially enjoys spending time with her grandchildren.
Sergeant-At-Arms
Lou Weimann
Louis… actually only his mom calls him Louis… you can call him Lou. Lou came to San Diego to join friends and family and ditch the brutal winters of New England in 2011 and never looked back.
Lou loves story telling, ask his friends… and he also talks a lot in his business life, working for Eastridge Workforce Solutions, as a staffing sales person. It was the desire to be a more concise, confident, and intelligent… well, at least sounding intelligent speaker, were the reasons Lou joined Toastmasters 7 in November 2017. As Sergeant-At-Arms, he looks forward to being one of the first people guests see as they try out our club. Anything he can do to help someone overcome that initial fear of joining, like past members did for him, Lou will be right at the front door to help guests with any questions and/or concerns.
When not at Toastmasters, Lou likes to go to the latest Comic Book (mostly Marvel, but I guess DC, too) Super Hero Movies with his big brother, Jon. Lou is also an ex-hockey player / HUGE ice hockey fan. In fact, during the hockey season from November till about April, as a local professional hockey San Diego Gulls season ticket holder, you'll find him at the Valley View Casino Center for every GULLS home game.